DDD – DEGENERATIVE DISC DISEASE. IS IT REALLY A DISEASE? LET'S LOOK AT THE FACTS…ACUPRESSURE – THE BEST SOLUTION FOR RELIEVING PAIN..
DDD-DEGENERATIVE DISC DISEASE, WHAT IS IT?
Degenerative Disc Disease which is also called Spondylosis, is a condition caused by breakdown of the discs that separate the spine bones. It's not technically a disease, but rather a general term used by medical professionals to describe aging changes that can occur along any area of the spine (Cervical, thoracic, Lumbar), but most common in the Lumbar (Low Back area). As we age the spine begins to shown signs of wear and tear as the discs dry out and shrink. These age-related changes can lead to arthritis, disc herniation, or Spinal stenosis.
It's not actually a disease, but rather a condition in which the discs, "Degenerative Disc Disease' or in simple words "Loose Flexibility and Height to Cushion the Spine". Discs don't have a good blood supply, so once injured they don't repair themselves easily. By applying acupressure techniques using Balls of Bliss Acupressure
WHAT IS ACUPRESSURE? CLICK HERE
HEALTH BENEFITS OF USING WOODEN MASSAGE TOOLS..FIND OUT HERE.
LET'S LOOK AT THE FACTS ABOUT DDD-DENERATIVE DISC DISEASE?
Discs Dry Out And Shrink:

Discs are made of about 80% water. As we get older they slowly lose water and flexibility, which The annulus is the strongest area of the disc and connects each vertebrae together.

Small Tears occur In the Annulus:

Sometimes the gel-like material pushes through a tear in the wall and touches the nearby nerves. This material has inflammatory proteins that can irritate nerves and cause pain. These tears also affect tine nerves that causes pain. If ignored, over time the proteins dry up, and the discs become stiffer.

Discs Space gets Smaller:

Due to loss of water in the discs the distance between vertebrae begin to collapse, which is why we get shorter as we age.

Bone Spurs Grow:

Without the discs holding apart the vertebrae, they can rub on each other causing abnormal bone growths.

Spinal Canal Narrows:

The stresses of all the above changes causes the ligaments and facet joints to enlarge as they try to compensate and spread the load over a larger area. This over-growth causes the spinal canal to narrow, which can compress the spinal cordand nerves causing pain. Spinal Stenosis CLICK HERE
WHAT ARE THE SYMPTOMS?
The symptoms of degenerative disc disease vary from person to person. Many people with deterioration have no pain, while others may experience pain so intense that it interferes with daily activities. Interestingly, even thought this condition affects people starting in their twenties or thirties, people in their sixties are less likely to have back pain caused by DDD.
Pain often starts in one of three ways: (1) A major injury followed by sudden and unexpected pain, (2) A tribal injury followed by sudden back pain, and (3) Pain that starts gradually and gets progressively worse.
Usually, the pain begins in the lower back, and may be felt in one or both of the legs and buttocks (sciatica). It's often described as pressure or burning pain. You may also feel numbness or tingling in the leg and foot, which usually is not a cause fo concern unless the leg muscles are weak.
Sitting usually causes the most pain because in this position the discs have more weight on them. Activities such as bending or twisting usually make the pain worse, lying down tends to relieve the pain. Walking feels better rather than sitting or standing for too long.
WHAT ARE THE CAUSES OF DDD-DEGENERATIVE DISC DISEASE?
In addition to age and injury, arthritis and osteoporosis contribute to Degenerative Disc Disease. Besides aging and regular wear and tear, there can be causes such as: Old injury, Car accident related back injury, Genetic, environmental, autoimmune, inflammatory, and trauma to back muscles.
WHO IS AFFECTED BY DEGENERATIVE DISC DISEASE?
This condition usually affects young adults or middle-aged people who lead active lifestyles and are in otherwise good health. Studies have shown that people who smoke are at greater risk for developing degenerative disc disease, as are people who work in occupations required to stand for too long, sitting for too long on daily basis, athletes,
CAN ACUPRESSURE HELP RELIEVE PAIN RELATED TO DDD- DEGENERATIVE DISC DISEASE?
APPLYING ACUPRESSURE TECHNIQUES USING BALLS Of BLISS ACUPRESSURE TOOLS…. THE NUMBER ONE SOLUTION TO RELIEVE PAIN AND MAINTAIN HEALTHY SPINE….
While disc degeneration can't be reversed, there is evidence that Acupressure, along with lifestyle changes can contribute to better quality of life. The goal of Acupressure Therapy is to help you return to full activity as soon as possible, because IF YOU DON'T USE IT YOU LOOSE IT….Spinal Alignment is most important for people experiencing Back or Neck pain associated with degenerative disc disease. Applying Acupressure Techniques using Balls of Bliss Acupressure tool will help strengthen and stretch the back, which will increase flexibility of the spine. The firm pressure applied to the area which is immobile or not moving properly will help reduce the pain progressively, resulting in increased physical activity along with strengthening of supportive spinal muscles, leading to correcting the posture and keeping the spine in alignment. These two things are the most important to manage pain related to DDD.
The philosophy behind Acupressure Therapy is to return the joints to more normal motion. Good joint motion is essential for the health and nutrition of the discs and joints because it permits the exchange of nutrients, fluids, and waste. Good motion helps reduce pain, muscle spasms or imbalance, and improves nervous system function and overall health. Without movement, discs and joints may degenerate more quickly than normal. Motion also reduces the formation of scar tissue, which can lead to stiffness and degeneration.
STRESS IS THE NUMBER ONE OBSTACLE TO PAIN CONTROL.
Pain increases when under stress. Laying on Balls of Bliss Acupressure Tool in your bed or on a yoga mat on the floor in between your shoulder blades (where the acupoints to relieve stress are) for few minutes will help reclaim control of the body. The firm pressure applied using Balls of Bliss Acupressure tool using your own body weight will help you to take deep breaths, increase blood and oxygen flow in the affected area, relax the nervous system. This process helps release "endorphins", body's natural healing hormone.
WATCH STEP BY STEP DEMONSTRATION VIDEOS…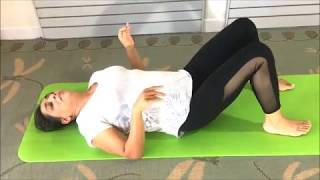 CHRONIC TRAPEZIUS PAIN RELIEF IN MINUTES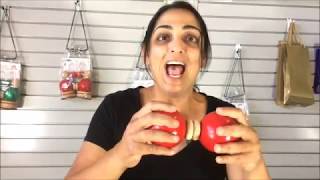 LOW BACK /SCIATICA PAIN RELIEF INSTANTLY!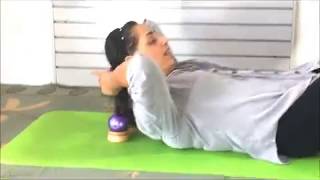 Relieve headaches/migraines dem. video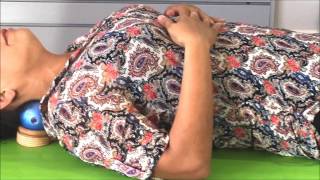 Neck pain relief dem. video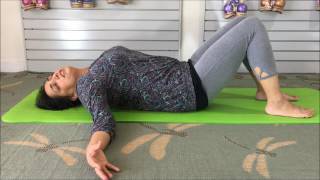 shoulders/traps pain and stress releif dem.video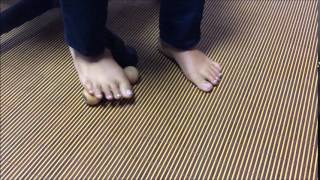 Hot stepper foot roller dem. video
CHRONIC TRAPEZIUS PAIN RELIEF IN MINUTES

The firm pressure applied using this technique with balls of bliss tool will get rid of the accumulative tension in the rhomboids & trapezius muscles instantly by promoting blood and oxygen flow in the affected area. It helps release the compressed nerve pathways which is causing the pain, rebuilding the damaged tissue, strengthening the muscles

LOW BACK /SCIATICA PAIN RELIEF INSTANTLY!

This acupressure technique using balls of bliss tool is the #1 Solution for low back, sciatica and hip pain. It helps promote and increase blood and oxygen flow in the affected area, rebuilds damaged tissue, releases compression from nerve pathways

Relieve headaches/migraines dem. video

GB 20: iUnder the hollows of the skull. Within 15 seconds to 1 minute of Applying acupressure technique using Balls of Bliss Acupressure tool you will notice the pain diminished and be replaced by a relaxed warm feeling. Made of maple and oak wood in U.S.V.I.

Neck pain relief dem. video

Placing Balls of Bliss tool under the neck (2 stability rings included to elevate the balls) for only 2 minutes will loosen the neck muscles, increasing blood and oxygen flow, proper aligning the neck, relaxing the nerves. Balls of Bliss Acupressur tools made of maple and oak wood in U.S.V.I.

shoulders/traps pain and stress releif dem.video

Trapeziuz muscle pain can cause tension based headaches, vertigo symptoms, shoulder pain, carpal tunnel syndrome, headaches, etc. Applying acupressure techniques using massage tools like Balls of Bliss Acupressure tool can help fix these symptoms. Made of maple and oak wood in the U.S.V.I.

Hot stepper foot roller dem. video

Experiencing foot pain? Is it Plantar Fasciitis? Excruciating pain in the heel of the foot upon waking in the morning. Trying to put the foot on ground can be dreadful. Hot Stepper foot roller is designed to cure plantar fasciitis pain upon using it for few minutes daily. Within 2 weeks or less plantar fasciitis is cured. Maple and oak wood made in U.S.V.I.