WHIPLASH INJURY: 7 FACTS ABOUT WHIPLASH INJURY. DISCOVER THE BEST SOLUTION!
DISCOVER THE BEST SOLUTION TO THE INJURY THAT KEEPS ON GIVING…..EVEN YEARS LATER..
ACUPRESSURE: THE BEST NATURAL SOLUTION FOR WHIPLASH INJURY AND IT'S SYMPTOMS! LET'S LOOK AT AN OLD PROBLEM WITH A NEW INSIGHT!
When we think of Whiplash Injuries, we automatically think of injuries to the neck. While this is certainly true (Chronic Neck Pain is the number one long-term sequel of whiplash accidents), there can be far-reaching consequences that go beyond the neck——-in many cases, all over the body, especially Low Back Pain, Slip disc, protruding disk in the neck or low back. To mention a few of many symptoms such as: Trapezius muscle pain, shoulder pain, headaches, blurred vision, Neck pain & stiffness. In this article you will Discover The Best Solution to treat whiplash injury and the symptoms associated with it. First we have to understand the function of the Spine.
The spine is a long chain of bones, discs, muscles and ligaments that extends from the base of the skull to the tip of the tailbone. The muscles and ligaments surround and support the spinal column. All of these structures have nerve supplies, and injury to any one can cause pain. The cervical spine (neck region) supports the head, protects the nerves and spinal cord, and allows for smooth function of the neck during activity. Any impact or blow that caused the head to forcefully jerk forward or backward can cause a Whiplash injury. When this sudden movement occurs, the force stretches and tears the muscles and tendons in the neck causing whiplash injury. As you will read 7 Facts About Whiplash Injury And Discover The Best Solution To An Old Problem, maybe you will solve the mystery to your chronic back pain, or headaches, etc..
Whiplash symptoms may manifest immediately following the incident, or they can take few hours or days and sometimes years to appear. Often times the exact underlying cause remains unknown for some whiplash symptoms despite today's best diagnostic techniques. Due to the potentially high number and varied complexity of whiplash symptoms, they sometimes collectively referred to as whiplash-associated disorders (WAS). For some people, whiplash symptoms can be so minor that they go away within couple of days. For others, (more than 50% of people) whiplash symptoms can become varied and chronic, ranging from severe pain to cognitive and emotional problems.
Click Here to find out the long-term effects of Whiplash Injury.
THE MYTH: "If I don't have any symptoms right away, I'm O.K"
THE TRUTH: After a Whiplash Injury, symptoms can be so slight at first, and individual may not realize that he/she has been injured. Even if a person feels relatively normal after and accident or a sports injury or any kind of injury to the neck the symptoms can be delayed for days, months or even years. Whiplash injury can have long-term effects. According to research people who suffered whiplash injury felt symptoms after 10 years of the accident. (ref. Article Click Here).
7 FACTS ABOUT WHIPLASH INJURY! DISCOVER THE BEST SOLUTION!
1. As many as 50% of the people injured in a Whiplash-Type accident progress to chronic and develop an associated low back injury, which often doesn;t show up for about 2 months after the injury.
2. In a car accident, the head and neck average 2.5 times the force than the car.
3. Typically, if the person has been injured previously and have a second one, the level of injury increases, and healing time is longer.
4. Women typically have longer lasting injuries because of the shape of their head, neck and shoulders. With their thinner necks, they have less soft tissue (muscles, ligaments , etc.) to support them. (Reference article Click HERE)
5. Two thirds of people get out of the car after and accident or a fall or injury while playing sports don't have pain. This is due to the endorphins released by the body. Late onset injuries – weeks, months, or years later, are the most common.
6. Forty percent of people involved in a car accident between 0 and 5mph are injured.
7. When whiplash injury go untreated, people often end up with longer-lasting injuries, some that become chronic. These may include headaches, low back pain, shoulder injuries, chronic tension in the shoulder and neck muscles, posture changes and a loss of movement in the neck.
AMAZING BENEFITS OF ACUPRESSURE! Click HERE To Find Out.
DDD- DEGENERATIVE DISC DISEASE! IS IT REALLY EVEN A DISEASE? LEARN HERE!
WHAT ALL DISEASES CAN ACUPRESSURE CURE? WHAT'S BETTER? DEEP TISSUE MASSAGE OR ACUPRESSURE? DISCOVER HERE!
7 BEST TIPS TO PREVENT BACK INJURY! PROTECT YOUR SPINE.. CLICK HERE!
IMMEDIATELY STOP DOING THESE 7 THINGS WHEN IN BACK PAIN! LEARN MORE HERE!
THE #1 SOLUTION FOR BACK PAIN THAT REALLY WORKS! BALLS OF BLISS ACUPRESSURE TOOLS! FOR MORE CLICK HERE!
ACUPRESSURE: DISCOVER THE BEST SOLUTION FOR WHIPLASH AND IT's SYMPTOMS!
BALLS OF BLISS ACUPRESSURE TOOL – THE #1 CURE FOR WHIPLASH INJURY & IT's SYMPTOMS!
Acupressure can help at all stages of treatment, thanks to natural anti-inflammatory, pain-relieving and muscle-relaxing properties and the absence of any of the harmful side effects typical of most medications. The pain-relieving properties of Acupressure are well known. Acupressure Therapy stimulates the release of "endorphins" and, simultaneously, inhibits the production of adrenaline, cortisol and norepinephrine – the hormones associated with pain, physical stress and inflammation (as in the case of whiplash).
Furthermore, acupressure seems to facilitate sleep, which is very helpful as a stiff neck makes it difficult to fall asleep, disrupts sleep which can cause anxiety.
The firm pressure applied by using Balls of Bliss Acupressure Tool , quickly relaxes the local muscles by increasing blood supply, which helps rebuild damaged muscle fibers and ligaments. This process plays a very important role as it speeds up self-healing, strengthens the body's defenses and regenerates damaged cells. In other words, acupressure has bio-regenerating, anti-inflammatory and anti-edematous effect. Balls of Bliss Acupressure Tools, Made of Combination of 100% Maple and Oak Wood. CLICK HERE TO FIND OUT THE AMAZING HEALTH BENEFITS OF USING WOODEN MASSAGE TOOLS.
DEMO. VIDEOS : RELIEVE PAIN RELATED TO WHIPLASH: BALLS OF BLISS ACUPRESSURE TOOL.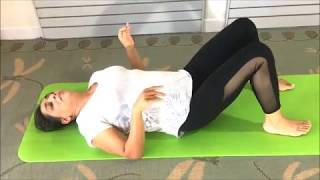 CHRONIC TRAPEZIUS PAIN RELIEF IN MINUTES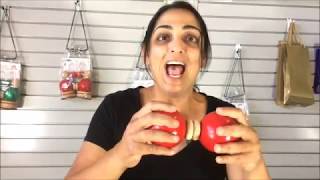 LOW BACK /SCIATICA PAIN RELIEF INSTANTLY!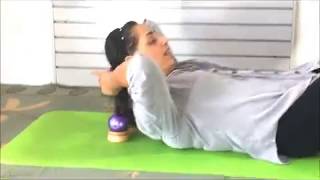 Relieve headaches/migraines dem. video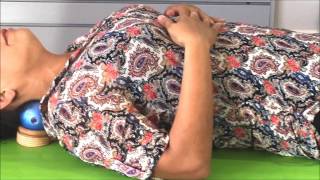 Neck pain relief dem. video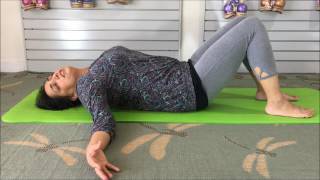 shoulders/traps pain and stress releif dem.video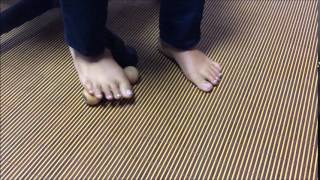 Hot stepper foot roller dem. video
CHRONIC TRAPEZIUS PAIN RELIEF IN MINUTES

The firm pressure applied using this technique with balls of bliss tool will get rid of the accumulative tension in the rhomboids & trapezius muscles instantly by promoting blood and oxygen flow in the affected area. It helps release the compressed nerve pathways which is causing the pain, rebuilding the damaged tissue, strengthening the muscles

LOW BACK /SCIATICA PAIN RELIEF INSTANTLY!

This acupressure technique using balls of bliss tool is the #1 Solution for low back, sciatica and hip pain. It helps promote and increase blood and oxygen flow in the affected area, rebuilds damaged tissue, releases compression from nerve pathways

Relieve headaches/migraines dem. video

GB 20: iUnder the hollows of the skull. Within 15 seconds to 1 minute of Applying acupressure technique using Balls of Bliss Acupressure tool you will notice the pain diminished and be replaced by a relaxed warm feeling. Made of maple and oak wood in U.S.V.I.

Neck pain relief dem. video

Placing Balls of Bliss tool under the neck (2 stability rings included to elevate the balls) for only 2 minutes will loosen the neck muscles, increasing blood and oxygen flow, proper aligning the neck, relaxing the nerves. Balls of Bliss Acupressur tools made of maple and oak wood in U.S.V.I.

shoulders/traps pain and stress releif dem.video

Trapeziuz muscle pain can cause tension based headaches, vertigo symptoms, shoulder pain, carpal tunnel syndrome, headaches, etc. Applying acupressure techniques using massage tools like Balls of Bliss Acupressure tool can help fix these symptoms. Made of maple and oak wood in the U.S.V.I.

Hot stepper foot roller dem. video

Experiencing foot pain? Is it Plantar Fasciitis? Excruciating pain in the heel of the foot upon waking in the morning. Trying to put the foot on ground can be dreadful. Hot Stepper foot roller is designed to cure plantar fasciitis pain upon using it for few minutes daily. Within 2 weeks or less plantar fasciitis is cured. Maple and oak wood made in U.S.V.I.